Cleveland is hosting the Midwest Fall collegiate sailing championships
Billy Delfs Foundry 8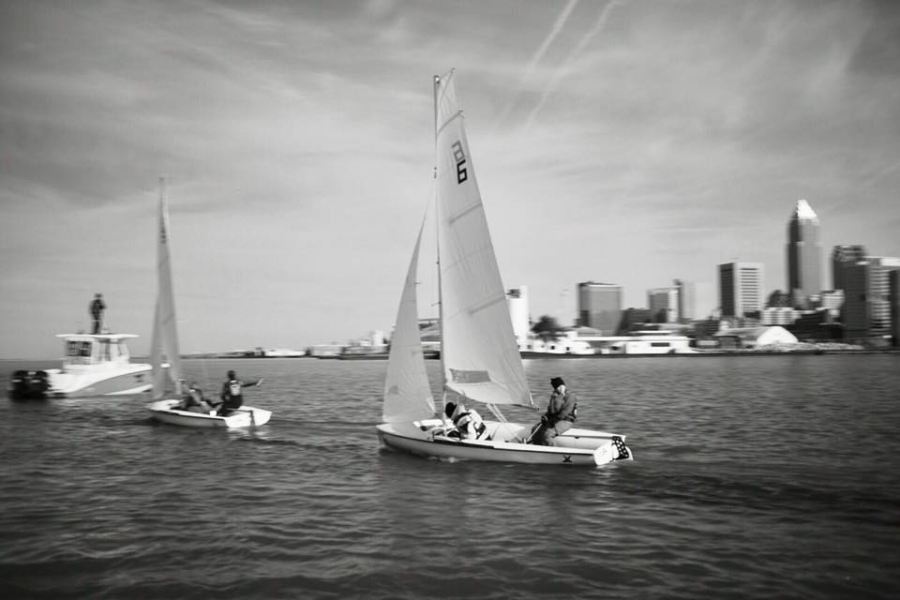 CLEVELAND, Ohio – About 125 college sailors and coaches are coming to Cleveland, to bunk with local families and compete in the city's first Midwest Fall Championship regatta.
The Foundry, which trains student rowers and sailors from its headquarters in the Flats, is hosting the event from the at the tip of Whiskey Island, since the original venue at Northwestern University on Lake Michigan fell through.
Fourteen teams will race an approximately 1-mile course behind Cleveland's breakwall.
The teams from the Midwest Collegiate Sailing Association will use the Foundry's two-person 420 sailboats. They'll also borrow any equipment, and will be rest in between races at the restored station, which the Foundry has rigged with space heaters and generated lights. (Since there's no sewer lines, porta-potties will have to do.) Foundry volunteers will help coordinate the events.
"It's rustic, for sure," said Foundry Sailing board member Rusty Deane. "It's the coolest. College sailing, they're pretty used to this."
The venue means spectators will have a great view of the racing, and it'll be easy for sailors to get in and out of the station docks.
And don't worry, they wear dry suits to keep warm.
Here's how the regatta works: Each college enters two two-person teams. They each race the course twice before switching. The winner of each race gets 0 points, second gets 1 point, etc. The college with the lowest number of points wins the championship.
Deane believes this is the first time Cleveland has hosted the Midwest championship event.
The Foundry has moved into the Coast Guard station this fall with its high school program, and has been sailing nearly every day since August, changing activity on the lakefront, said Deane.
"It's a dream come true," Deane said. "This is a game-changer for sailing like this in Cleveland. It changes the whole waterfront."
Here's the schedule
Saturday, Nov. 18:
9:15 a.m. Competitors meeting
10 a.m. First warning
Racing throughout the day
6:30 p.m. Dinner and speaker
Sunday, Nov. 19:
9:15 a.m. First warning
1 p.m. Racing ends
Awards