Euclid breaks ground on groundbreaking Lake Erie trail
We all want more access to our Great Lakes. And despite all the industry and private property and expressways lining our Northeast Ohio shoreline, Euclid has figured it how to give it to us.
The inner-ring suburb on Thursday broke ground on a 3/4-mile, $11.5 waterfront trail over private land.
Landowners granted access for the trail because it will stabilize their property, which loses more than 13 inches of earth to erosion every year. Decades-old concrete debris will be hauled away, cliffs will be converted to gentle slopes,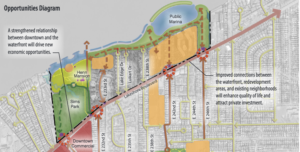 invasive plant species will be removed and private steps will be added for property owners to reach the water. That hasn't been possible in years.
And much of the cost will be covered by state and federal grants, as well as from Cuyahoga County casino money.
It's a big deal in Cuyahoga, where six cities touch the lake, and around the Great Lakes, as evidenced by a Next City
article in 2015 with the headline Did a Hundred Homeowners Just Change the Great Lakes Forever?
Author Dan McGraw, who grew up nearby, said at the groundbreaking Thursday he's had calls about the story from other Great Lakes towns, including Traverse City.
Cities around the eight Great Lakes states, plus Ontario and Quebec, are searching for similar solutions, said Matt Doss, policy director for the Great Lakes Commission.
"We're taking damaged shoreline and making it accessible," Doss said during a ceremony at the Sims Park fishing pier Thursday. "The vision this community has is a great example."
Members of the Laborers Local 860 union shouted and booed speakers at the ceremony because the general contractor is nonunion, though the subcontractors will hire union workers, said Mayor Kirsten Holzheimer Gail.
See the whole ceremony on Facebook Live here.
Euclid stretches over four miles of Lake Erie shoreline, but until now the city has only 600 feet of public access.
City Council last month voted to build the western half of the trail, from Sims Park east to East 238th Street. A public access stairway at East 238th Street will connect the waterfront to Lakeshore Boulevard.
The trail is part of a 15-year, $30 million lakefront plan adopted in 2009. The first phase built the Sims Park fishing pier in 2013. The final phase is a public boat launch and a marina, with a restaurant, swimming area and kiosk for renting stand-up paddleboards and kayaks.
What if other cities could do the same?
"We really think this could be a great demonstration for areas across the lakes," Gail said.