How to make a driftwood wreath for nothing but the price of glue (and maybe ribbon)
Want a little nautical flair for your front door, practically for free?
Obviously! Here's how to make your very own driftwood wreath, with nothing but wood off the beach and two types of glue.
If you love beach glass, you probably love driftwood. It's a perfect medium to capture the carefree feel of Lake Erie and reflect its wind and sun and water in your décor.
(No starfish, whales or other ocean paraphernalia need apply.)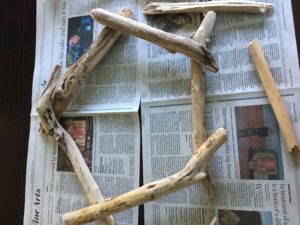 Finished driftwood wreaths are sold by shops like World Market and Pottery Barn. And Pinterest has plenty of ideas for making wreaths, using foam or grapevine wreaths. I messed around with a cardboard
back and concluded that using nothing but driftwood works best, especially if you want to hang it on a glass door or window.
It's easy, I promise. (I did it on a Friday night, with a glass of wine, because that's how I roll.)
Here's what to do:
1. Pick up sticks. Go to the beach especially after a storm, and bring a big bag. Choose short, light pieces in a variety of widths and textures. If you can find curved pieces, even better.
If you carry an extra plastic bag, you can pick up trash off the sand, too. Win-win!
2. Create the base. Glue pieces together, with both hot glue (which sets right away) and clear-drying craft glue, (which will hold better, long term).
3. Keep adding sticks. Keep gluing until your wreath looks nice and full.
4. Ta da! Add a ribbon and hang on your door.