Shore Thing Vermilion makes Main Street Beach better
Shore Thing in Vermilion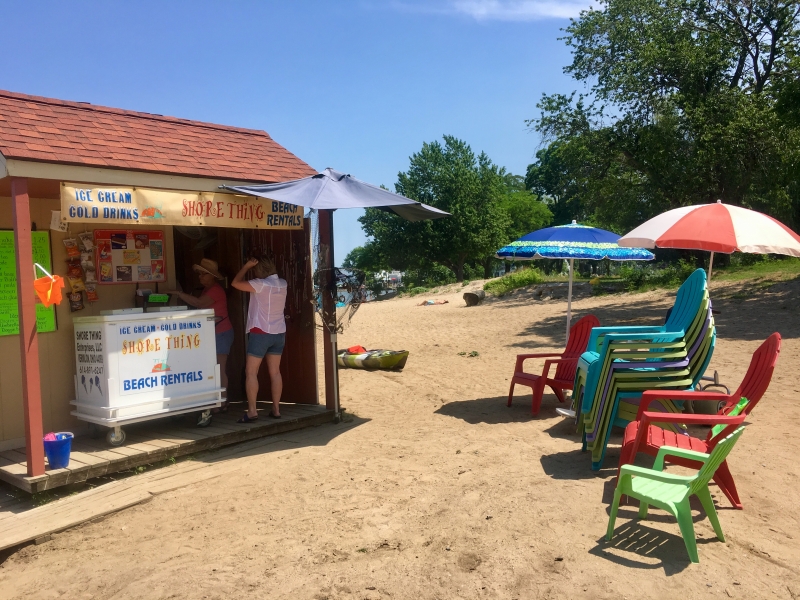 Need a beach chair? What about an ice cream sandwich? Or sand toys for the kids?
The volunteers at Shore Thing can supply just about any lake necessity from their shed at Main Street Beach in Vermilion, near the small town's iconic lighthouse.
The group, which this year became part of the nonprofit Main Street Vermilion, was dreamed up over dinner in 2011.
"We were talking about the fact that while Vermilion had beach at the end of Main Street … the city didn't have a lot of cash to be able to use to keep the beach as nice as it could have been," said Larry Houff. "We thought perhaps we make it a bit more beautiful."
Houff, a Vermilion native and former pastor, and his wife Gundula, moved to Vermilion after retiring in 2006.
They pitched their idea to the city's recreation department, which was all for it. They started cleaning the beach regularly and burying dead fish that washed up, and they recruited two other volunteers to staff a shed.
They added a shower so people could hose the sand off their feet. They bought umbrellas for the wooden deck. They began selling cold drinks and prepackaged snacks and renting umbrellas and chairs, at a cost of $2 and $1 an hour, respectively. They made earrings and necklaces out of shells and beach glass, to sell. They raised $2,000 to buy a beach wheelchair to take people with disabilities over the sand and to the cool water of Lake Erie.
With the proceeds, Shore Thing has donated to Vermilion in Bloom, which maintains baskets and pots of flowers around downtown and at parks. They've contributed to Fourth of July fireworks and donated a bench at a nearby park. They've helped repaint the lighthouse and buy a Fresnel lens to make it operable.
"The main thing from the beginning was never to earn a profit," Houff said. "It was to be volunteers for the community."
The shed sits where Main Street dead ends into Lake Erie, where a swath of sand fans out from the Vermilion River. Boats cruise in and out of the lagoons, picturesque against the white houses with black shutters.
On a busy day, like the Fourth of July, Shore Thing will serve as many as 200 people.
About 30 people volunteer now. The city rakes the beach once a week, and volunteers clean up trash daily. One day Gundala Houff picked up about 200 cigarettes from the sand.
They hope that in the future, when the former museum on Main Street is demolished, the site will include changing rooms and bathrooms for the beach.
"They go to the beach and they just kind of fall in love with it. It's a very pleasant place to spent a day at the beach."