Know why the Lorain lighthouse leans? A ship hit it. See where on a tour
Lorain lighthouse tour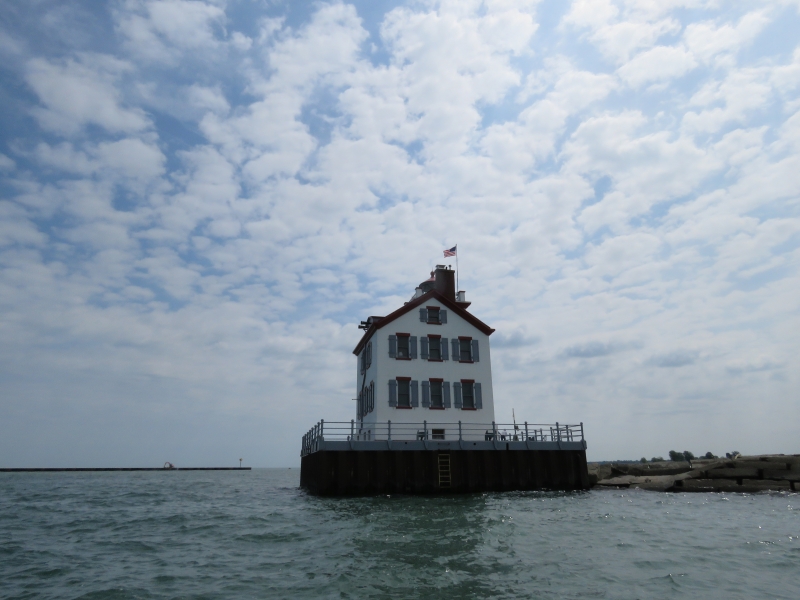 The Lorain lighthouse tilts 7 degrees to the east.
That's because in 1969, a Canadian freighter struck the concrete base. You can see the jagged crack when you tour the light, listed on the National Register of Historic Places.
You can also see the old water cistern in the basement, the original steel doors on the main floor and an antique U.S. Coast Guard bedspread in the bunk room. And you can climb to the top of the light, 58 feet high, to look out at Lorain and the Lake Erie horizon.
The lighthouse was built in 1917 for the U.S. Lighthouse Service for about $32,400. The U.S. Coast Guard took over operations in 1938. And in 1947, a U.S. Coast Guard member stationed there recalled logging the weather conditions every two hours.
"You got $1.10 a day to live on. So, you'd get a pound of bacon, a loaf of bread
and some ground beef," Harry Siegfried told the Lorain Journal in 1988. It was a good life. For relaxation we'd throw a softball or fish in the summertime. … We wore bell bottoms and chambray shirts – standard Coast Guard issue… We didn't wear any shirts in the summer. After all, who's going to see you out there?"
See a full history of the lighthouse from the Lorain library.
U.S. Coast Guard plans to sell Cleveland lighthouse: See vintage photos of Ohio lights on Lake Erie
Volunteers have spent countless hours and $1 million in donations and grants to restore the lighthouse, which the Coast Guard intended to demolish in 1965, when a new automated light was erected.
Now the non-profit Lorain Lighthouse Foundation hopes to transform the light into a bed and breakfast, said volunteer Frank Sipkovsky, 75. "A labor of love," he calls it.
"It's part of the history of Lorain," said Donald Fugitt. "We wanted to preserve it."
On a warm sunny Thursday in June, he, Sipkovsky, Dave Kramer, Bob Gradisek and Bill Quarando refinished doors, cleaned windows and got the light ready for a summer of tours and sunset dinners.
The foundation, which accepts donations and offers memberships, will give tours June 17 and 30; July 8, 11, 25 and 28; Aug. 5, 8 and 29; and Sept. 1 and 8. Sunset dinners are offered Tuesday-Thursday, now through Sept. 11.
There's also a lighthouse gift shop at Spitzer Marina, where you catch the boat to the lighthouse. For more information, call 440-282-7137.
Looking for the most romantic date on Lake Erie? Splurge on a sunset dinner at the Lorain Lighthouse