Cleveland welcomes Great Lakes cruise ship
Cruise ship in Cleveland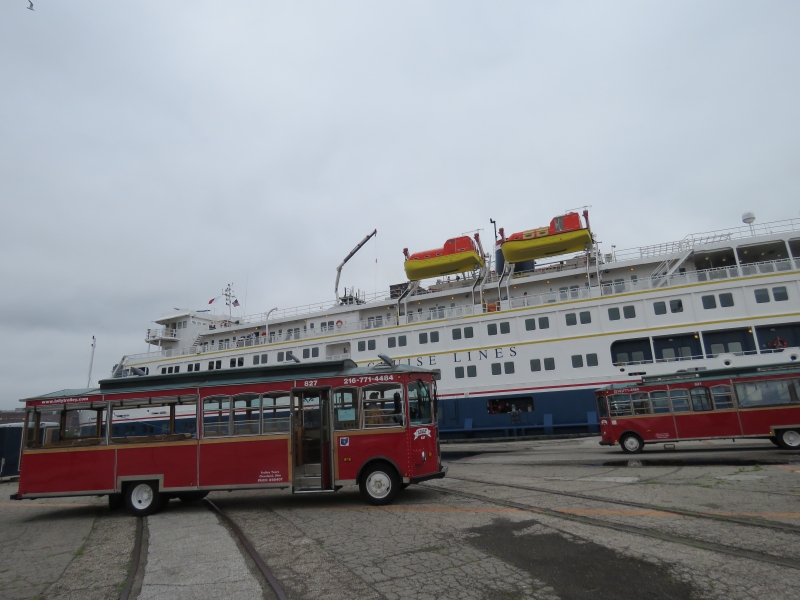 The passengers streamed off the cruise ship — in Cleveland, of all exotic destinations.
At the Port of Cleveland, where gritty freighters normally unload their cargo, older couples boarded Lolly the Trolley and were serenaded by the Singing Angels.
"Nothing but blue skies, from now on," sang the teenagers. The visitors applauded and waved, as they took off to explore the sites, including the nearby Rock and Roll Hall of Fame.
The 290-foot long, five-deck Victory ship docked Thursday morning in Cleveland, part of an eight-night trip from Chicago to Toronto.
It's one of nearly 20 cruise stops in Cleveland this year, up from nine last year.
For each arrival, Destination Cleveland organizes volunteers to welcome passengers. On Thursday, they held signs that said, "This is a parade, not a protest," and "Welcome to the Land."
"It's fabulous," said volunteer Nancy McLaughlin of Cleveland Heights. "I love seeing people come here and see what we've known all along, that Cleveland is the best city around."
Three companies operate Great Lakes cruises. Each ship holds 80 to 200 passengers, many of them senior citizens who enjoy historical tours and lectures on board, from eight to 16-day tours with stops in the United States and Canada.
Victory, with Victory I and II: Nine-day cruises, which start at $4,500, all inclusive. Generally nine-day tours from Chicago to Toronto, or vice versa.
Pearl: 11-day cruise on four Great Lakes.
Blount Small Ships, with the Grande Caribe and Grande Mariner: Two itineraries, a 16-day cruise from New York to Chicago or vice versa, starting at $5,000, and an eight-day tour of Lake Michigan.
Victory Cruise Lines added Cleveland to its itinerary last year, and it ended as guests' second favorite port, after Mackinac Island.
"They love Cleveland, and it's always a surprise," Victory Cruise representative Nancy Leach said. "They rave about the tour and they rave about the tour guides, and they rave about the friendliness."
A new group of passengers will arrive July 2.