Cleveland school kids patrol Cuyahoga River this summer
This summer, students at Davis Aerospace and Maritime High School will patrol the Cuyahoga River, aiming to make the river safer and give teenagers experience on the water.
The student river ambassadors will serve four at a time on a retired U.S. Coast Guard boat, with a captain and maybe an off-duty law enforcement officer. Starting with their launch on Friday, they will navigate the river ahead of freighters during the river's busiest hours, urging kayakers and stand-up paddleboarders to get out of the way. (Unlike recreational boats and rowing crews, kayakers and paddlers don't generally carry marine radios.)
Students will also warn boaters about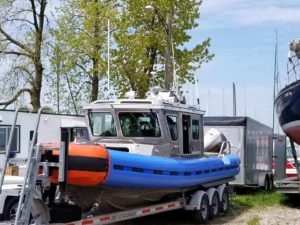 no-docking safety zones and hand out literature with safety tips.
"It teaches kids about boat operations," said Drew Ferguson, founder of Phastar, a Northeast Ohio aviation non-profit that provides the aerospace and marine technology and instruction at Davis.
Davis, a Cleveland Metropolitan School District high school, began in August with 50 freshmen and will expand to two grades in the fall. Students learn all the tradition subjects – plus marine biology, aviation technology, manufacturing and more at the building on Lakeside Avenue.
Davis Aerospace & Aviation High School Cleveland teaches boat skills with basics
The school works with the Port of Cleveland, the Cleveland airport system, Kent State University, U.S. Coast Guard and more. Students fly drones, practice reading maps and make parachutes to drop pumpkins from the balcony, all to prepare for college or a career in the maritime or aviation industries.
"We'll get a 16- to 18-year-old kid days at sea," Ferguson said. "If they can graduate with 150 to 200 hours, that would be fantastic high school experience. The kids would be employable."
Phastar, which is opening a community boat space at its Flats office where kids and community members can work together, is funding the first season of the summer river ambassador program, at about $100,000 for staff, fuel and other necessities.
The boat should be in the water by early June. Students will provide the service as part of their education, though a student with lifeguarding certification would be paid hourly. Ferguson hopes to pay all students in the future.
The company will take donations but hopes to be paid for services in the future.