11 Lake Erie shirts we love. Because we all need a new one for summer, right?
In Ohio, we have a thing for vintage-looking shirts.
T-shirts or hoodies, with jeans or shorts, we wear them to proclaim our pride — in our sports teams and our cities. As G.V. Artworks puts it, "CleveLAND that we love."
Which is why we obviously all need a Lake Erie shirt for the summer. Or maybe two: a T-shirt for a day on the boat and a sweatshirt for the chilly breeze while we roast marshmallows on a bonfire on the beach.
There are scores to choose from. Here are 11 cool choices for a season of fun.
1. Erie & Anchor
Erie & Anchor hooded sweatshirt: $40
Micah Roberts of Vermilion created the Lake Erie lifestyle brand in January. If offers T-shirts, sweatshirts, totes, tumblers and more.
2. Cleveland Clothing Co.
Cleveland Clothing Co. T-shirt: $28.
This T-shirt company with a flagship store on East 4th Street is a classic, with designs like HOME atop the outline of Ohio. This beach design has been teased as a comeback.
3. Lyman Life
Lyman Life long-sleeve pocket T-shirt: $38
Michelle Burke of Rocky River started Lyman Life to celebrate the clinker-built wooden boats built on the shore of Lake Erie.
4. Erie Apparel
Erie Apparel shirt: start at $20
The Erie, Pennsylvania, shop carries all sorts of Erie gear, including a T-shirt with Commodore Oliver Hazard Perry's famous words, "Don't give up the ship."
5. Homage
Homage T-shirt: $32
The Columbus T-shirt company, which has a store at Crocker Park, has supersoft T-shirts celebrating sports teams, colleges and cities. And of course, the lake.
6. Shore Society
Shore Society T-shirt: $28
Designer Rachael Koenig of Lakewood started Shore Society to capture Cleveland's "Rust Belt nautical aesthetic."
7. Cuyahoga Collective
Cuyahoga Collective shirt: $18.75-40
The Collective, sold online and in a pop-up truck, includes all sorts of cool Cleveland and Cuyahoga Valley National Park gear.
8. Erie Island Coffee Co.
Erie Island sweatshirt: $38
Not just a coffee shop, Erie Island also sells shirts. Find them downtown on East 4th Street or on Detroit Road in Rocky River.
9. Nalu Stand-up Paddle & Surf
Nalu, Rocky River T-shirt: $20
If you surf, you might feel the need to own this Surf Ohio T-shirt.
10. Cleveland Metroparks
Cleveland Metroparks tank top: $20
This beachy tank top is available at the Cleveland Metroparks' new Edgewater Nature Shop.
11. RocktheLake
Rock the Lake short-sleeve T-shirt: $20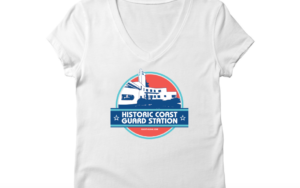 Yep, we've got our own shirts — and towels and water bottles and more — available in a ton of designs. Check out our RocktheLake shop.
Ten percent of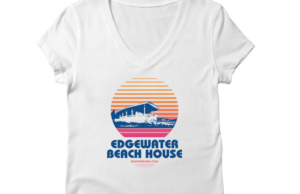 all profits benefit The Foundry sailing and rowing facility.
And how awesome do they look?