What to expect ice fishing off Put-in-Bay
I had no idea what to expect on my first experience ice fishing off South Bass Island. Definitely not a picnic table. Yet I'm sitting at one, bolted to a trailer that is towed by a four-wheeler wearing chains on its tires.
Down the ramp on the west side of the island, we go Ice Man Guiding Service. Bump bump bump onto the wide expanse of ice.
No ice is safe ice. But the ice between the Erie islands is safer than in the open lake, since the islands lock in the ice and keep the wind from shifting it.
Still, after several freezes and thaws this winter, the lake tapestry of white and deep teal, swirls and lines and chunks shoved and melted together. On this day, the ice is more than 14 inches thick in spots, though it's covered in pools and slush.
"Every couple of days, it changes out here," says Scott Straetz, better known on Put-in-Bay as "Wisconsin Scott," or the Ice Man.
(The Ohio Department of Natural Resources recommends ice be at last 4 inches thick for a human to walk on and 5 inches thick for snowmobiles or all-terrain vehicles.)
See more ice fishing coverage on RocktheLake.
Straetz, who is from Wisconsin, coordinates every aspect of an ice fishing trip – transportation, lodging, heated shanty, fishing rods, bait, electronic fish finder and even a hot lunch, ordered from the only restaurant open on weekdays and delivered right to your shanty door.
Ice Man has eight guides, 10 permanent shanties and a bunch of pop-up tents. They can accommodate up to 45 anglers at a time – which means getting up at 4 a.m. to position and stock the shanties and sometimes staying up until 1 a.m. cleaning fish. (It's $.25 per perch and $1 per walleye.) And they guarantee that you'll go home with your state limit catch of six walleye and 30 perch a day, even if they have to give you yours.
They'll also teach beginners how to fish and offer tips to even the most advanced anglers, who travel from Wyoming, Illinois and Kentucky. Everybody flies onto the island, either on Island Air Taxi or Griffing Air, from the airportin Port Clinton.
On a recent Thursday ,Stan and Chris Koblinski, a father-son pair from Middleburg Heights, caught two walleye and a perch before noon.
"You can see the fish coming, and it's beautiful," said Stan.
Ice Fishing on Lake Erie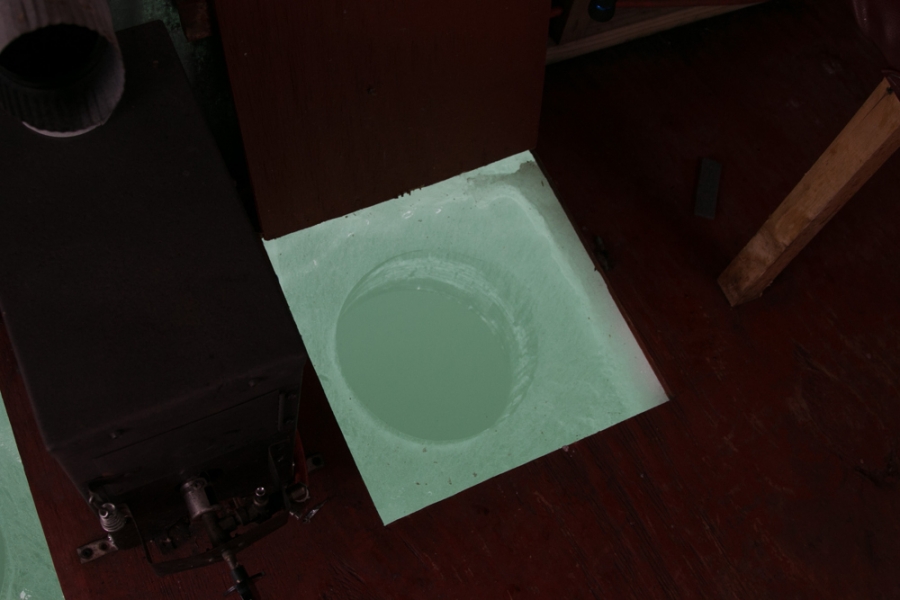 "You don't have to worry about a boat or waves," said Chris. "It's just hanging out and talking, and once in a while you catch a fish."
Anglers say you get addicted to ice fishing once you try it once or twice. They like how you can walk around and talk to people in different shanties, like a neighborhood where you can drill and fish wherever you want.
It's a little creepy, though, to stand on the ice a half-mile from land in a mist created by warmer air mixing with frigid water.
"There's a suckerhole," says our guide, Brian "Moonshine" Gnacinski, pointing to a vortex of water swirling in a hole in the ice. "That one's just swirling like a bugger… The stronger the wind blows, the faster the water goes, the bigger it grows."
"Aren't you terrified?" I ask, after watching a snowmobile spin in the slush.
No, he said. "I can't say it doesn't spook me out a little," Gnacinski said. "But if you look where you walk, you should be safe."
Regardless, Straetz – who spends the whole winter on South Bass Island – wears a float suit that will keep him buoyant if he ever falls through the ice. He also wears retractable ice picks in his coat sleeves.
Because while he's busy every day answering clients' calls, making food runs and chauffeuring anglers around the island, he makes sure to get an hour of fishing in.
"As long as I catch one fish in a day, I'm content."
If you go
Ice Man Guiding Service
Transportation: Griffin Air and Island Air Taxi fly from Port Clinton International Airport at regular 15-minute intervals
Cost: Monday-Thursday $200 a day, Friday-Sunday $250 a day. Kids 15 and under fish free.
Lodging: $30 per person a night
Dates: Completely weather dependent
Contact: 419-341- 9721, [email protected]