What to know before you ice fish on Lake Erie
Ice fishing started off Catawba Island last week, the earliest Capt. Tony Muscioni can remember in his 65 years.
The ice there, hemmed in by the Erie islands, freezes before other spots in Lake Erie, said Muscioni, who runs airboat trips onto the ice. Now the ice is about 7.5 inches thick.
The Ohio Department of Natural Resources says ice must be at least 4 inches thick to support an angler and gear (about 200 pounds). And while no ice is safe, clear ice has less impurities than cloudy ice.
"There's no such thing as safe ice. That's the rule," Muscioni said. "You never know. If you hit a soft spot and you go down, it's over. You gotta be very very cautious. I don't take any chances."
While Catawba ice has been full of four-wheelers and snowmobiles, in Wickliffe, 82-year-old Andy Setlock said the massive snow has made the ice harder to read, so he hasn't yet ventured out.
"I'm not a fan of Lake Erie when it's iffy," Setlock said. "I don't want to be picked up on a big floating slab."
The Rocky and Chagrin rivers in Cuyahoga County are mostly frozen, according to Cleveland Metroparks Aquatic Biologist Mike Durkalec, but because of currents he doesn't recommend ice fishing on them.
A Pennsylvania man died in December ice fishing on an inland lake.
Of the more than 33 million anglers in the United States, about 2 million fish through the ice, according to the U.S. Census.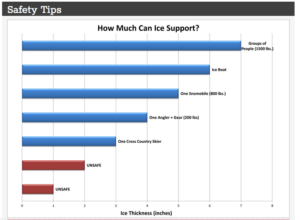 The walleye fishing is great this year, said Muscioni, who has customers from all over the United States, Canada and Alaska. His A1 Airboats company charges $175 per person to take a group of four to six people out from West Catawba State Park. Muscioni drills the holes with an auger, produces the bait and helps them fish all day. Most people bring their own shanties.
"There's a diehard crew of ice fishermen out there," he said. "It's a big thing. It's just like hunting. It's the same thing. You just get it in your blood. You want to come down and catch the big ones."
According to the ODNR, you can catch the same species when ice fishing as you hooked during the summer months, including crappie, perch and walleye.
Fish are less aggressive in the winter, so you'll want to use lighter tackle.
Here are ODNR's tips for ice fishing:
Always fish with a partner or in an area with several other anglers present
Let others know exactly where you are going and when you plan to return
Place a cell phone in a plastic bag to protect it from moisture in case you get wet
Sprinkle sand around your feet for better traction on the ice
Try to fish around other ice anglers so if you do fall through, someone might be there to help you get out.
Dress appropriately to prevent hypothermia and wear a life jacket or flotation suit when walking around on ice.
Always take along a PFD seat cushion or more importantly, wear a life vest in case of an emergency
Avoid areas where feeder streams, springs, bridge pilings, docks, and dam structures since ice is usually very thin there
If you fall into the water, remain calm.
Slip your loose boots off to better tread water
Use ice awls to pull yourself out of the water
If no ice awls are available, call for help and try "swimming out" by letting your body rise up to firm ice and crawl out
Stay flat, distributing your weight on the ice
Keep your clothes on once out of the water. This will keep you insulated.
If someone else falls in the water:

REACH using a stick or fishing pole.
THROW a rope or PFD.
ROW or push a boat.
GO call for help.