Transforming beach glass into heirloom jewelry
Washed Ashore Jewelry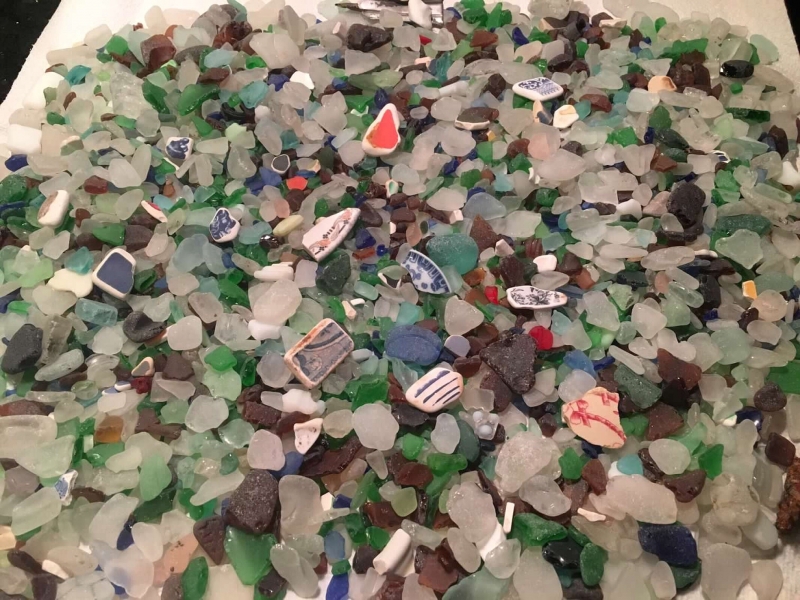 Laurie and Bud Vinch used to roam the beaches of Lakewood until the street lights came on, pocketing cool rocks and beach glass.
For years, the siblings deposited their treasures in buckets and bins. And decades later, when their mom decided to sell their childhood home, the basement was stuffed with treasures.
Laurie had so much glass she sold a kiddie pool – a kiddie pool! — full of beach glass to an artist friend.
But in 2009, Laurie and Bud's wife, Beverly, decided to put all that glass to use making one-of-a-kind jewelry. Washed Ashore was born.
Now, Bud Vinch continues to pick, hauling in all kinds of colors and shipwreck pottery from mostly private beaches in Cleveland's western suburbs. Laurie also picks, and creates birdhouses, lanterns and wall art from the glass. And Beverly creates bracelets, earrings and necklaces with the prettiest of the glass, plus sterling silver, Swarovski crystals, mixed metals and freshwater pearls.
The pieces range from $15 to $375, depending on the materials and the time they take to make. Washed Ashore will make custom pieces, even create jewelry out of beach glass clients have found on their own.
"We just love that you love what we love," said Beverly, who jokes that beach glassing is the "new national pastime on the west side of Cleveland."
Every time she drives past Bradstree's Landing in Rocky River, she says, she sees a treasure hunter searching, with eyes focused on the sand.
The hobby of beach glass hunting has swelled in the last decade, so that now there there's a Glassing magazine and weekend festivals, an online artisan marketplace and Facebook groups dedicated to glass. At the same time, with cleaner waterways, the amount of sea glass is dwindling – making the search more intriguing and the pieces more valued.
Lake Erie is still churning out plenty of glass, though, Beverly says.
"Lake Erie is a hotbed for beach glass," she said. "Who knows what's rolling around down there? The lake is so tumultuous, it just busts things up."
A couple of reasons for the multitude of glass here.
Lake Erie has more than 2,000 shipwrecks, all of which cold have been carrying ceramic dishes and glasses, not to mention marbles in the ballast.
For decades, Cleveland dumped its trash in the lake.
Lake Erie is shallow, which means the waves can be incredibly rough. Those whitecaps toss pieces of glass, rubbing them on rocks and sand, frosting them and transforming them into jewels.
As for those marbles, they could have been loaded into the ballasts of ships. Or they could have been dumped by marble manufacturer Akro Agate into the Cuyahoga River. Or they could have been thrown into the lake by kids at the end of the day at Euclid Beach Amusement Park, Beverly explains from the bright studio at the back of her Avon Lake home, citing the book "Pure Sea Glass."
The place is covered in beach glass. Drawers and drawers of chunky pieces, organized by color. Tiny pieces in jars. A handful of telltale teal of Fiestaware, worn round and white by the waves. A candy dish of Vaseline glass, pieces of pre-World War II giveaway serving pieces that were manufactured with a tiny bit of uranium, so that they glow under a black light.
In addition to the glass are tools – two professional quality drills and all sorts of jewelry making devices.
Beverly spends a lot of time here, making whatever inspires her this week, to sell at art shows throughout Northeast Ohio.
She struggles to describe why people are so drawn to beach glass.
"It's very organic," she said. "It's like the ultimate in recycling and repurposing. You don't know where it came from, but you know it came from somewhere."