3 Cleveland guys making customizable sunglasses: Erie Interviews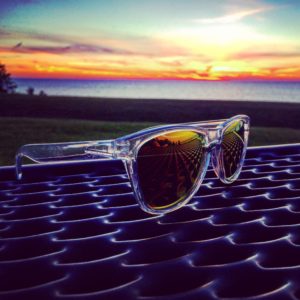 If you're on Lake Erie, you need sunglasses.
And three Cleveland guys want to sell you their unique pairs, with interchangeable frames, polarized lenses and 16 different colors of arms.
Meet Chris Piazza, Brian Schultz and Stan Rothschild. Piazza, of Painesville, came up with the idea for Escher Sunglasses in 2015. His cousin, Schultz, joined the company, and then Schultz's Chagrin Falls neighbor, Rothschild.
The trio – which yes has so far kept their day jobs — has focused on events, including Cleveland Yachting Club's holiday market last week. The approach is working; they've sold about 600 pairs in the last two months alone, at a price of $25 for one pair and $40 for two.
You can get 18,000 combinations, in the wayfarer frame shape.
"The one thing that drives us nuts is when someone orders an all-black pair or a tortoise pair with brown lenses," said Schultz.
RocktheLake spoke to Piazza, 33, and Schultz, 37. (Full disclosure: I bought two pairs of glasses, with pink and blue arms, first). Here's what they had to say about Cleveland, marketing, prescriptions and ski goggles.
The interview has been edited for clarity and length.
So you're selling sunglasses. That's a pretty ubiquitous product. How do you set yours apart?
Schultz: It's a very big market, a multi-times, multi-times multi-billion dollar industry. Chris knew he had a unique idea. How do we break into this with a brand, a name? Because I believe at the end of the day, you're paying for the name. That's how it works. We knew we were going to have to market differently. We knew we couldn't walk in to a 200-plus chain gas station or retailer. We took a different approach to get this brand out there. We focus on event style sales. First and foremost, we tried to target local schools. We try to do color matching.
We went to a few bridal shows. Or thought process was to make brides want to buy a pair of white glasses and then get some with different color arms just to wear for bachelorette parties. We did one Cleveland flea, in October. We were pounded all day long. A lot of it has to do with our energy, also the price point. We're selling an affordable item. People are interested. Nobody can have enough pairs.
It's a blast.
At CYC, everybody had cut fingers because we were moving as fast as we can to put things together. You got to get out there, you gotta talk to people, you gotta engage.
Are you targeting boaters?
Schultz: At the end of the day, our target market is anybody who wants to listen to us. We will sell to anybody and everybody
Everybody wants polarized lenses. Anybody who's boating, anybody who's yachting, anybody who's fishing, they need polarized lenses for specific reasons.
Anything that's water-related or outdoor-related, that is a definite market place we want to be in. If I could be in every yacht club in Cleveland, I would. If we can get it out there enough we may be the next fidget spinner.
Do you consider yourself a Cleveland company?
Piazza: We're not I Heart Cleveland or GV Artwork or Cleveland Clothing Co. We have Cleveland colors, we have Browns colored sets. We're working on getting the right wine color for the Cavs.
Schultz: We want everybody who buys our products and wears our products to know that this is a Cleveland-based company.
The sunglasses come from China. Pretty much everything else is out of our basement, out of the kitchen; our children work in our sweatshop.
We are vetting and talking to multiple injection molding facilities. We want these glasses made in Cleveland. More importantly we want these glasses made in the United States. I don't want to have to keep doing this overseas.
What comes next?
Schultz: We had the idea of an airport vending machine. Everybody forgets sunglasses sometimes, and you've got time to kill. You push a button and out drops the pieces with instructions on how to put it together.
We take feedback from anyone out there. I don't know, is prescription a possibility? Can we provide that to somebody? Maybe we should stick to cheaters.
People ask, are you coming out with ones for kids? That I want to do. My 6-year-old son, he changes his stuff all the time.
At CYC, people were talking about taking their sunglasses to Vail.
Piazza: Ski goggles. Believe me, that's on the docket.
Your shades definitely evoke an active, outdoorsy lifestyle. Do you think Cleveland has embraced the outdoors in the last decade?
Schultz: Definitely. There's been so many parties on Edgewater. They always have something going on down there. They spent so much money to reinvigorate these spaces. At the Beachhouse, they put in food, they put in booze. You can buy beer. And the water is getting significantly cleaner.
The reinvigoration of the Flats also has helped push people back downtown.