Cleveland to paint red safety zones on Cuyahoga River — and ticket for docking there
The city of Cleveland plans to paint 10 sections of bulkheads in the increasingly busy Cuyahoga River red, with "No Docking" signs to keep boaters from tying up there.
The longest safety zone is along the revitalized Flats East Bank, a 600-foot stretch from Alley Cat Oyster Bar north to the Norfolk Southern Bridge. Parking boats there, like in many twisty sections of the crooked river, poses hazards for freighters – especially when kayakers, stand-up paddlers and rowing crews create an obstacle course for freighter captains.
"It's becoming a problem that can lead to tragedy," Cleveland Planning Director Freddy Collier Jr. told the Cuyahoga River Safety Task Force this month. "I'm shocked it hasn't happened already."
The task force meeting grew heated, as representatives from the city, U.S. Coast Guard, shipping companies, tour boats, Flats businesses and more discussed how to keep the Cuyahoga safe. Boaters want the Norfolk Southern Railroad brid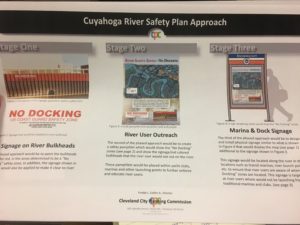 ge at the mouth of the river to raise without delays. Currently, it often takes a half hour or more to raise the bridge. They also want more enforcement and patrols on the river and more safety training for casual paddlers and boaters.
Here's how to paddle safely on the Cuyahoga.
"When freighters come through, they create a pinch point that can kill people," said Jim Dale, captain of the Nautica Queen, which docks on the West Bank of the Flats.
With more development and more interest in sports like rowing and stand-up paddleboarding, the river has become more and more crowded. And task force members are more and more worried.
The city believes the first step to quell potential issues is to clearly mark the safety zones.
Painting will start in the early May, along with a campaign to pass out safety pamphlets and erect signs with maps of the safety zones, Collier said.
The safety zones have existed for years. But some task force members want the Coast Guard to conduct a formal Port and Waterways Safety Assessment before painting them.
The report would analyze data on river hazards and issue recommendations, making sure the safety zones are in the right places and that painting is helpful, said Michael Farrell II, director of health, safety and environment for Rand Logistics Inc., a shipping company.
He said perhaps a strobe light atop ships would be more effective, warning people on the river that a freighter is coming, before you could see it around the bend.
"It stops my heart sometimes," Farrell said, of close calls on the river.
No one has been ticketed yet for parking along safety zones, in part because many boaters don't know they docked in a safety zone. The section near Alley Cat has boat cleats, making it look like a perfectly reasonable stopping point.
At times people have been asked to move their boats, officials said.
But next year, the Coast Guard or city could ticket boaters, at a cost of $500 for a first offense, then $1,000 and $2,500.
"This is a complex web of concerns I think we have to attack collectively," Collier said.
Lt. Ryan Junod, the investigations officer for the Coast Guard station in the Cleveland harbor, said he would pursue the assessment.