Lake Erie hides secrets of 2,000 shipwrecks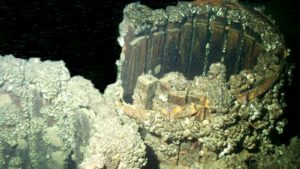 The Great Lakes hold the secrets of about 8,000 shipwrecks. Lake Erie covers 2,000 of them, among the highest concentration of wrecks in the world.
Only about 375 of Lake Erie's wrecks have been found. They are schooners, freighters, steamships, tugs and fishing boats, and thanks to the cold, fresh water, many of them are perfectly preserved.
Georgann and Mike Wachter of Avon Lake spend days searching for more wrecks, scuba diving to the lake bottom. They document the sites and research their histories, to tell their stories in books and on their website, eriewrecks.com, so other divers can experience them.
"It's a treasure hunt, to solve a mystery," said Wachter, a member of the International Woman Divers Hall of Fame. "People who hunt for shipwrecks, they enjoy trying to figure out what the wreck is because it's a better story."
She estimates Lake Erie has 500-600 serious scuba divers on its shores. Many will attend the biggest scuba conference in the Midwest on Saturday, at Kalahari resort in Sandusky, where the Wachters will speak.
The couple has discovered more than 35 wreck sites since they began diving in the 1970s.
That includes the Republic, 130-foot-long ship built in 1854 in Clayton, New York, which sunk off Lorain in 1895 and the Wachters found last year. The couple used maritime records to discover its backstory.
Lake Erie used to be kind of a boat super highway for passengers and goods alike.
There are about 12 wrecks within 2 miles of Cleveland, Wachter said. There are two off Edgewater Beach, a couple tug boats deliberately sunk off Lakewood and, off Neff Road in Euclid, one well-intact schooner which carried gravestones.
The wrecks are the reason the Great Lakes have a SCUBA scene.
Check out this slideshow of wrecks.
"It's not like the Caribbean," Wachter said. "You're not looking at perch or walleye or anything like that."
In the eastern section of the lake, you can sometimes see 100 feet down without a light. In the central and western basin, impeded by the algae bloom, you can see only 10 to 15 feet. Regardless, the water is cold – down to 40 degrees in the deepest waters, even in August, Watchter said.
A novice scuba diver can explore a ship about 20 feet under water, but you should have at least 30 dives experience before venturing to 70 feet, she said. Shipwreck hunters can also take a Maritime Archaeology Survey Team training program, which teaches ship terms, laws and ethics, research, survey tools and trilateration (a technique to measure shipwrecks).
Ships in shallow water generally were blown apart by dynamite, so they didn't harm other ships. Some of these wrecks are now just a pile of boards.
Others – including a secret schooner the Wachters found in a remote section of Lake Erie and have not publicized – are undisturbed, their bells and china plates untouched.
It's illegal to remove anything from the sites, and divers tend to be preservationists anyway.
They're hooked on the thrill of the hunt.
The Wachters use sonar on the sides of their boat, which can detect objects 300 feet in either direction, to find their targets.
They plan to keep their boat in for another week or so. They've got a tip off Kelleys Island they want to check out, and one near Lorain.
Occasionally, they spot a wreck randomly. Other times, with a rough estimate, they drive back and forth over an area like they're mowing the lawn, until they find something.
Then, "it is wonderful."