Freedom Boat Club lends boats without hassle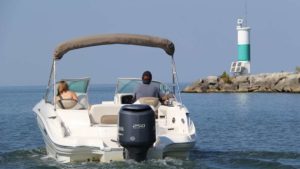 Want a boat without the headache of actually owning a boat? You know, cleaning it, fixing it, figuring out where to dock and store it.
Renting a boat for a day isn't really an option around Cleveland. But the Lake Erie Freedom Boat Club is sort of a boat library. For a $5,500 initiation fee and $259 a month, you can make up to four reservations (including two on weekends), to check out a power boat for any day between April and the end of October. You can also borrow a boat from any of 148 locations across the United States and Canada.
"We're hassle-free boating," said club owner Beckett Spreng.
Nationally, the Freedom Boat Club started in Florida in 1989.
The Sprengs opened the Lake Erie franchise in 2009, with four boats. Now the club has 185 members and 20 boats, all three years old or newer, 22-28 feet long.
The Lake Erie fleet – which is spread among Catawba, Huron and the Emerald Necklace Marina in the Rocky River Reservations — includes bowriders, deck boats, single- and double-consoles and tri-toons. (That's a pontoon with three floats, to make it more stable in Lake Erie's notorious waves.) No jet skis, though, and no tubes, water skis or other toys.
The club plans to add boats at a downtown Cleveland location next year.
"The resurgence of downtown has really helped," Spreng said. "People want to be out on the lake."
Members like to take boats to the Flats for lunch or to Edgewater beach to listen to live concerts on Thursday nights, she said.
The Rocky River group is a broad demographic, with families, young professionals and retirees. (Dogs are welcome, too.) There are social clubs, such as ladies and fishing groups, and parties. People who just want to get out on the water, skipping through the waves, as your hair flies and you can't help but grin.
The club provides life jackets, plus unlimited training on skills such as docking and navigation.
"Everyone needs a refresher coming out of the winter," said club sales director Mark Stewart. "The objective is for you to be out on the lake having fun and not white-knuckled worrying about how to drive or dock," Stewart said.
Does the club make sense? Or are you better off buying your own boat?
Mint.com estimates the cost of owning a boat at $358 a month – without the actual price of buying one (somewhere around $20,000 for a small powerboat) or monthly dock fees.
Jeremy Jackson and his wife sold their boat in May and joined the club. He said he should have done it a decade ago.
"Every season something would break," said Jackson, of Rocky River. "It would be $2,000 to $3,000, and out of the water for a few weeks."
The club costs about half what Jackson normally spent on his own boat, he said, and it was so easy he went out more than he had done in the previous five years. He also took up fishing with the club and his two kids and borrowed boats at the Catawba location, so they could cruise around Put-in-Bay and Kelleys Island.
"It's added a whole new dimension," he said.