How to create coastal decor — without going kitsch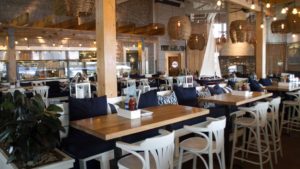 Everything's popping up coastal.
You can buy anchor-bedecked bedsheets at Target. Bags of sea stars and coral sculptures from T.J. Maxx. And whale towels at Walmart.
But you want to do coastal without kitsch; you want to capture the carefree feel of Lake Erie and reflect its wind and sun and water in your décor.
That's why the trend is so popular, says Barrie Spang, owner of Sapphire Pear Design Studio in Rocky River. She's designed lakefront homes, and houses in Florida, and even boats.
Coastal style makes you feel instantly relaxed, Spang said.
"Everyone always wants to be on vacation," she said. "You want to feel like you're on a trip."
That's why I went coastal when we bought our house a year and a half ago. (Well, that and the fact that I'm obsessed with water.)
Coastal décor hit the mainstream about four years ago, Spang said, and replaced the warm, spicy colors of the Tuscan trend.
Of course, coastal comes in all kinds, inspired by all sorts of geography. The pink flamingos of old Florida are a stark contrast to the striped lobster buoys of old Maine.
In the industrial heartland of Cleveland, coastal melds with the matte metals of industrial (the most popular design trend of 2017 in Ohio,according to Insider), or the rustic wood of farmhouse. No lobsters necessary.
Coastal should look effortless, relaxed, like you've moved the outdoors in, says the W Design Interiors team, based in Chagrin Falls.
W Design created the cool oasis of Coastal Taco in the Flats, with its cedar shake shingles and macramé light fixtures.
"Coastal style is at its best when it sets a mood rather than hitting people over the head with its beachiness (oars! fish! life preservers!)," writes Lisa Frederick on the design hot spot Houzz. "Although seaside motifs feel apt and appropriate, you don't need to scoop up every piece you spot with a sand dollar on it; a coastal space simply evokes the easy, carefree feel of boating and beachcombing."
So step away from the mass-produced tchotchkes. Here's how to capture Lake Erie's coastal feel in your home.
1. Let in light.
The beach is bright and breezy, and your house can be too. Use simple window treatments, rather than heavy drapes, and showcase your view – especially if you're lucky enough to be on the water. Bounce around light with mirrors. Add extra light with glass doors and skylights.
2. Use lots of white.
You've seen shiplap walls, right? White spreads light around, and makes a space feel clean and airy. Try white cabinets in the kitchen, or white painted baseboards and furniture. Incorporate some cottage elements with white painted beadboard or wainscoting. Make all that white pop by pairing it with a hit of navy.
3. Paint walls the colors of the beach.
Go big with marine blue for a study or silvery pale blue for a bedroom. Consider a soft aqua or beach glass green or stormy gray, even a beige that reminds you of sand. There's a reason paint companies use names like "sea salt" and "tidewater."
4. Embrace light, weathered or reclaimed wood.
Think driftwood: the stuff that washes up on the shore. Hardwood floors are great. As is wood furniture, and maybe exposed beams. You want wood that looks natural, rather than dark, formal, glossy pieces.
5. Add crisp, easy fabrics.
If it looks like you could sit on it in a wet swimsuit, go for it. The coastal look is casual and summery. Linen is good, as are cotton slipcovers for couches.
6. Layer on texture.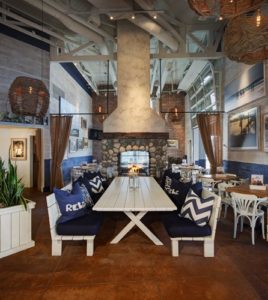 You could use jute knobs on bathroom cabinets, or a sisal rug in the living room. Consider wicker or rattan furniture. Throw a cable-knit blanket on the sofa and magazines in a sea grass basket. Or go industrial with metal chairs or pipes.
"Don't think literal," said W Design owner Wendy Berry. "Instead, mimic the outdoors and bring it inside. Think nature and organic elements that you could find on the beach. For example, using distressed wood beams on your ceiling and light and airy linens for upholstery. Incorporating natural fibers like a jute rug into your space gives a beach vibe without being kitschy."
7. Sprinkle with nautical elements. Sparingly.
This is where you can use all that cool stuff you scoured at the beach: the waterlogged tree trunk for an end table, a vase full of sea glass. Or buy that cool latitude-and-longitude pillow you saw at a gift shop.
"Maybe you could frame an old marine map," Spang said. "But not fill the house with anchors and ship's wheels."