3 Trackers lets kids with disabilities cruise the water
Richie Montgomery lounged in a kayak, chattering happily as the boat skimmed in and out of the sunlight on the Rocky River.
"He loves it," said his mom, Charisse Montgomery, of Euclid, who took photos from the dock. "He's looking so cool and laid back."
Kayaking was a first for 6-year-old Richie, who usually gets around in a wheelchair. He has congenital fiber-type disproportion myopathy, which weakens his muscles. Until age 2, he was on a ventilator, his mom said.
He loves Lake Erie, loves to listen to the waves at Sims Park and Euclid Beach, she said.
And he was clearly enjoying kayaking with help from a volunteer, who paddled the tandem kayak behind them.
That's the point of 3 Trackers, which helps people with disabilities kayak, bike, waterski and snow ski. The group began 40 years ago with snow skiing, and the name comes from the three tracks left in the snow by a skier with one leg, who uses adapted ski poles called outriggers. It now has about 25 volunteers and 75 participants, who pay a small fee for activities.
"It's a reward," said 3 Trackers President Mark Dietz. "The smiles, when you see all the wheelchairs in and row and the kids on the hill, full of joy."
On Sunday, as the leaves in the Rocky River Reservation were just starting to turn color, near where bridges crisscross the river and the water leads to Lake Erie, volunteers unloaded kayaks and a stand-up paddleboard modified with plastic pipes and a chair.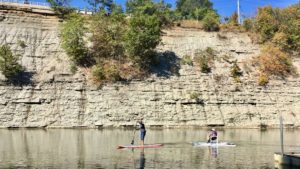 Bill Cochrane of Nalu SUP in Rocky River towed the board behind him.
In a kayak, 12-year-old Eli took off up the river in a kayak.
"Wow! There you go, kid!" shouted his mom, Laurie Silver. "Look at him go!"
Eli is nonverbal and has hearing loss, so uses American sign language to communicate. He also uses a reverse walker because he has muscle hypotonia.
But on the water, he has independence.
"He likes to be like everyone else," Laurie Silver said. "He likes to be on his own… He's tired of being shadowed by an adult all the time."