Perkins Beach to get new jetties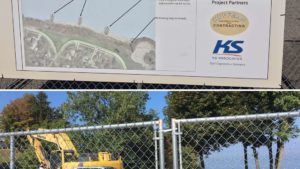 CLEVELAND, Ohio – Cleveland Metroparks have closed Perkins Beach on the west side of Edgewater Park, while crews remove five 1940s-era jetties and build three new ones.
The $446,000 project should be done by late November.
The work has been on a to-do list since the Cleveland Metroparks took over the lakefront park from state control in 2013, said Sean McDermott, chief planning and design officer for the Metroparks. The concrete was worn down, and metal rebar was showing.
"They were well beyond their useful life, and they were dangerous," McDermott said.
Groins, sometimes referred to as jetties, are structures built perpendicular to the shoreline to protect it and keep sand on a beach. One of the new groins will have a sidewalk for Clevelanders to get an even better view of the lake.
The Metroparks have madeover Cleveland's lakefront beaches since 2013. Last year they demolished the pier at Euclid Beach Park for a new, 220-foot replacement.
Perkins Beach — a walk away from the hustle of the bigger Edgewater Beach, with its lifeguards and live music – is a quiet stretch of sand, shells and driftwood, where lake lovers like to search for beach glass.
Who knows? Maybe the construction will churn up some new treasures.
Meanwhile, the fishing pier at Bradstreet's Landing in Rocky River is also closed, while the city does a safety evaluation.
Want more beach news? Follow RocktheLake on Facebook or on Twitter @rockthelakeCLE.