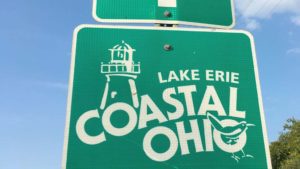 CLEVELAND, Ohio – Driving along Lake Erie? You can find more than 300 activities along 293 miles of Ohio's north shore with the new Lake Erie Coastal Ohio Trail mobile app.
The app, paid for with $25,000 of federal scenic byway funding, is overseen by the Erie Regional Planning Commission and the Northeast Ohio Areawide Coordinating Agency, which is coordinating with governments, parks, tourism bureaus, nonprofits and attractions across northern Ohio to promote the trail, and the lake. It groups attractions as nature, history or activity and uses GPS to tell you what's nearby.
"We're trying to figure out how to best leverage the excitement, as well as the potential," said NOACA's Jim Thompson.
The scenic byway, with its telltale green road signs, began with its own nonprofit in the early 2000s, but after government money petered out, the Ohio Department of Transportation took over. Now, NOACA and the Erie County planning agency have come up with goals to manage the byway and promote the sites and are including dozens of other interested organizations in a new steering committee.
The group is working to develop subcommittees, which could focus on smaller ideas, such as creating water trails in Lake Erie.
Coastal Ohio is one of five federally designated scenic byways in Ohio. Others are:
• Amish Country
• Historic National Road
• Ohio and Erie Canalway
• Ohio River Scenic Byway
Want more Lake Erie news? Follow us on Facebook or on Twitter @rockthelakeCLE.