Fall fishing on Lake Erie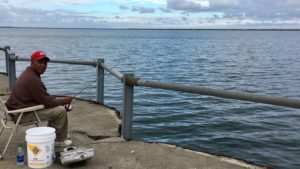 Fall is the best time to fish in Northeast Ohio.
Steelhead trout rush into rivers to spawn. Perch and Walleye swim from the middle of Lake Erie to the shallower, warmer water. You can catch them from the fishing piers and marinas that dot the shore.
On the rocks that ring East 55th Street Marina, anglers wait patiently, hoping for a tug on their fishing lines.
At 55th, anglers can catch small-mouth bass and sunfish within the marina, where dozens of boats are docked and bands play on the patio all summer. Or you can cast a line into Lake Erie hoping for bigger fish. (Make sure anglers over 16 have a valid Ohio fishing license.)
There are lots of fish in Lake Erie.
It's the smallest of the five Great Lakes – at about 55 miles wide, 240 miles long and 62 feet deep — but has the most fish. The fishery is so prolific in part because the lake's shallow depth means sunlight can penetrate.
Though Lake Erie has just 2 percent of the water in the Great Lakes, it has a mind-boggling 50 percent of the fish.
Great Lakes fishing is a $7.2 billion industry, according to Lake Erie fish management program administrator Travis Hartman. Ohio has a $2.9 billion fishing industry, spread across all its bodies of water.
About 52 percent of all Ohio-licensed anglers fish Lake Erie. That's about 450,000 anglers, spending 4 million hours a year fishing on Lake Erie.
Walleye is the biggest target, and the catch rate now is pretty fantastic, similar to in the 1980s.
"It's a super exciting time to live on Lake Erie now," said Metroparks aquatic biologist Mike Durkalec. "Environmentally, it's a far cry from where we were in the '60s and '70s, and we're still rebounding."
Durkalec, who lives in Erie County, has worked for the Metroparks for 12 years.
"In my 12 years, this has been the most exciting time working in the park… I just like to see Cleveland in a positive light, and the lake's part of that."
In a 2011 survey of the Greater Cleveland area, 19 percent of respondents said they like fishing.
Durkalec writes a weekly fishing report from September through May, which keeps anglers up to date on news and who's catching what where. And the Metroparks have loads of fishing events, including a Fall Family Fishing Festival on Saturday, Oct. 14, at the Ohio & Erie Canal Reservation, where the canal will be stocked with rainbow trout and catfish.
"We have the equipment and bait to use for free," Durkalec said. "You just show up. There are folks that will help you."
If you're an expert angler already, maybe you're more interested in the Lake Erie Walleye Fall Brawl, one of the biggest fishing derbies on the Great Lakes, where anglers compete from Oct. 20 to Dec. 3 to win cash and prizes.
Durkalec caught his first fish in the Metroparks, when he was 5 years old at Hinckley Lake.
"That fish changed my life," he said. "I had an automatic connection with the water."